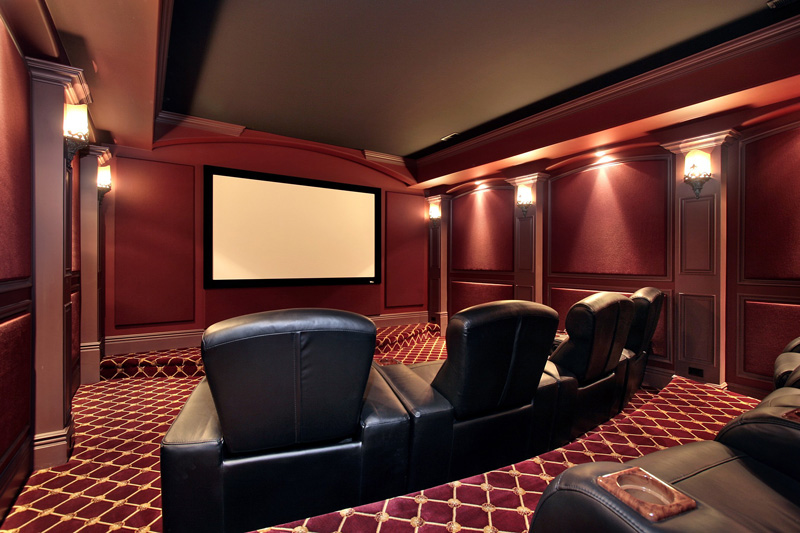 Have you ever dreamed of having one of those deluxe entertainment rooms that make you feel like you're at the red-carpet premiere of your favorite movie? Even if the thought has crossed your mind, you probably brushed it off as an unattainable fantasy.
The truth is, with advances in modern technology and creative interior design strategies, a home theater has become more affordable and practical for homes of all budgets and sizes. Consider the benefits of having your own entertainment room and you'll soon realize that it's worth the investment!
Enhance the way you experience content.
There's no better way to immerse yourself in the world of a show, movie, or video game than with the larger-than-life features of a home theater. Enjoy the surround sound and picture quality of a movie theater with the added comforts of your own home! With all the technology and streaming services available to bring content right to your fingertips, there's no need to waste money on a movie ticket.
Control how you're entertained.
Not only will a home theater allow you to improve your entertainment experience, it'll allow you to customize it too! Combine the best and latest technology with your ideal furniture, layout, lighting, acoustics and other features to enjoy TV and movies exactly to your tastes. Plus, with a centralized entertainment space, everything will be quick and easy for you to access when you feel like relaxing.
Add value to your home.
A home theater is a luxurious modern asset for your home. Enjoy it for yourself as long as you'd like, then use it to lure in prospective buyers if you decide to take the next step in the real estate market! This is a home addition that will immediately increase your property value and guarantee a return on investment.
Create the perfect place to host friends and family.
How impressed would you be if you went over to your friend's house for a movie night and they walked you into a full-blown theater with all the works? That's how your guests will feel when you invite them over for social gatherings! A home theater gives you the perfect opportunity to bring loved ones together for a one-of-a-kind experience.
When you decide to add a luxury addition to your property, you need a company that can accommodate your vision and your budget. A&E Brothers LTD has helmed a wide range of interior remodeling projects that combine old world craftsmanship with modern technology. Contact us today to bring an authentic and affordable home theater experience into your home!