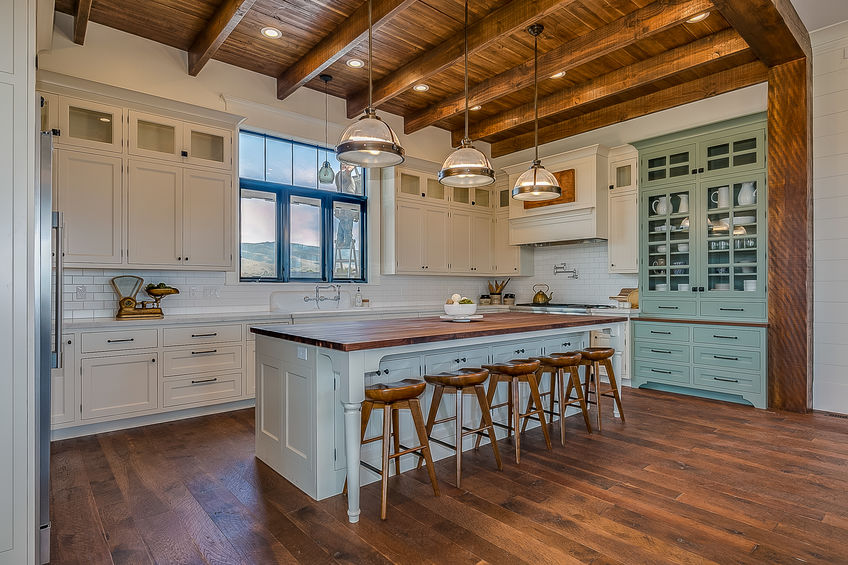 The classic farmhouse aesthetic is a warm and welcoming interior design style. It is considered more charming and sophisticated than typical "country kitchen" décor, and its focus is comfort.
A farmhouse kitchen typically features natural and reclaimed wood, cool neutrals, warm colors for accent pieces, and wool and cotton elements for an added touch of comfortability.
Here are four ways to create a tastefully styled farmhouse kitchen in your home!
1) Add Hardwood Flooring
Traditional farmhouse kitchens typically don't use tile or other types of flooring you may find in different kitchen styles. Opt for hardwood floors for a cozy and natural feel. Whether you choose reclaimed, barn board, vintage, oak, or walnut, you can be sure that hardwood flooring will bring your farmhouse style to life!
Bonus Tip: Exposed ceiling beams are another foundational style element that adds a great farmhouse feeling to your home. If you have beams in your ceiling, don't cover them up!
2) Invest in a Farmhouse Sink
Farmhouse sinks have been popping up in almost every kitchen style in the last decade.  Sometimes called an "apron sink," this versatile style looks amazing and is both wide and deep, making it incredibly functional. These sinks are often made of white porcelain, but you can find ones in different varieties to suit your style, like dark or metal versions.
3) Utilize a Long Kitchen Table
In a traditional farmhouse kitchen, gathering for a big meal was tradition. If you often entertain or have a big family, a large farmhouse table perfectly fits your kitchen. You can use natural wood elements again here or get creative with other materials that suit your style.
4) Choose the Right Cabinets
The right cabinets can complete your perfect farmhouse kitchen or inspire the rest of your design plan. In addition to the style of cabinets you choose, you'll also have to consider your cabinets' wood type. The color you use for your cabinets can look different on various types of wood. If you're painting your cabinets, you'll probably want to choose a smoother wood for a polished look. Rustic farmhouse kitchens pair well with textural woods when they're left natural or topped with a stain.
If you're ready to add some farmhouse flair to your kitchen, A&E Brothers can assist you! Our professional kitchen remodeling services can help you achieve any desired style, from farmhouse to contemporary; we have the knowledge and expertise to revamp your space in every way.
Contact us today at (347) 916-1799 to learn about our custom millwork kitchen designs to create the perfect farmhouse aesthetic in your home!