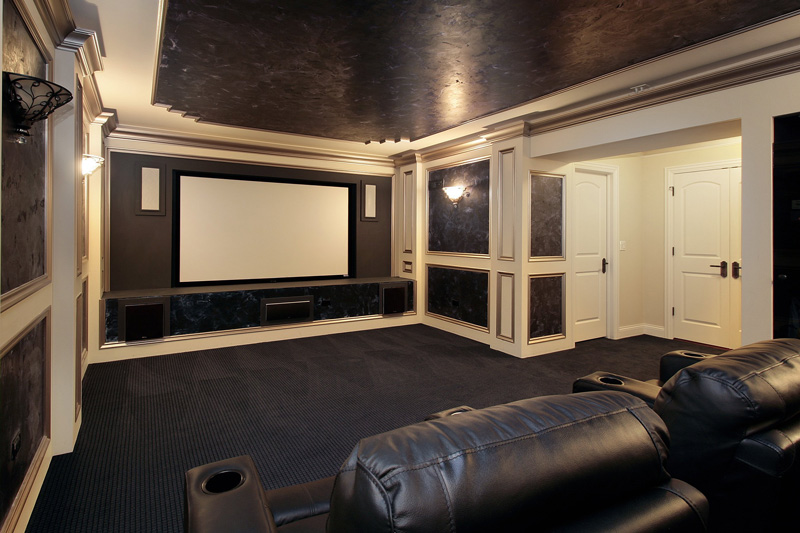 Having a luxury home theater is one of the ultimate goals of homebodies and entertainers alike. Thanks to advances in technology and increased accessibility, it is much easier for the average homeowner to enjoy the benefits of a custom-designed home theater than it once was. The key is being able to optimize your design for the best content viewing experience possible.
After you're set with all of your home theater basics, such as a projector, surround sound system, and streaming devices, it's time to evaluate what you can do to take your theater space and experience to the next level. Here are a few design tips to get you started!
1) Furnish with theater-style seating.
Sectionals and loveseats are perfectly fine for an average living room or family room. But in order to create a truly cinematic experience for your home theater, you need authentic theater-style recliners. Theater seating will set you up to enjoy your content in style and comfort. For an even more theater-like atmosphere, go all out and install tiered/stadium seating.
2) Install a lighting system that gives you flexibility and control.
You should be able to easily turn lights on and off, dim, and brighten them as needed in your home theater. Use a variety of lighting, such as rope, recessed, and sconced lighting, as well as dimmers to create the right ambiance. Install lighting along the ceiling, floor, and/or walls, keeping it mostly behind your viewers.
3) Paint with dark colors.
Unlike most rooms in your house, you want your home theater to be able to get as dark as possible for optimal viewing. Using dark colors on the walls, such as navy, and a dark neutral shade, such as gray, for the ceiling will minimize the amount of light reflected in your theater. Bright colors may seem fun, but they'll just distract from the content and bounce around too much light.
4) Choose your extras carefully.
While you definitely want to personalize your home theater, you also want to keep it rather simple, so the focus remains on the viewing experience. Don't go overboard with movie memorabilia, posters, and knickknacks. Instead, choose a few standout features, like a mini-bar, popcorn machine, or electric fireplace, to liven up the room without disrupting the cinematic vibe.
Whether you're looking to build a custom home theater from scratch or upgrade your current TV room setup, A&E Brothers can help you elevate your entertainment space. We offer a full range of interior home remodeling services throughout NYC, including home theater design and installation, to bring your dream home to life.
Contact us today to start discussing the needs, vision, and budget of your project!